Welcome to Cyber Addicts
Cyber Addicts is a games arcade and general chat forum.
We offer you a friendly community of people from all around the world. We hold a variety of forums and many topics of interest in a relaxing atmostphere.
Chat, meet and greet new friends, compete with fellow members in the arcade in real time and play to be King or Queen of the Arcade and land a place in our Hall of Fame.
Joining many discussions with a variety of topics available!
Play live games with other members in real time!
Make new friends, discuss new ideas, talk about whatever!
Chat with people from all over the world in real time!
Yes, it's free! What are you waiting for? DO IT NOW!
Today's birthdays
No members are celebrating a birthday today
Recent Status Updates
Upcoming Calendar Events
There are no forthcoming calendar events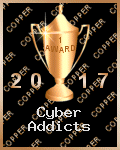 14,516

Total Posts

48

Total Members

Junon

Newest Member

234

Most Online